Lawn Care in Martin, TN
Who doesn't want a beautiful, green, luscious lawn? However, with a great lawn comes great responsibility. With all the other stresses of life, lawn care often falls to the wayside, creating a lawn that you're not exactly proud of. That's what we're here for! 4-Evergreen Lawn Care is here to help with all your lawn care needs, including:
Fertilization

Weed Control

Aeration

Seeding

Mosquito Control

Flea and Tick Prevention

And more!
The satisfaction of our clients is our top priority, which is why our technicians are trained and highly skilled in lawn care, as well as customer service. We're confident that we can address any lawn maintenance concerns you may have!
Image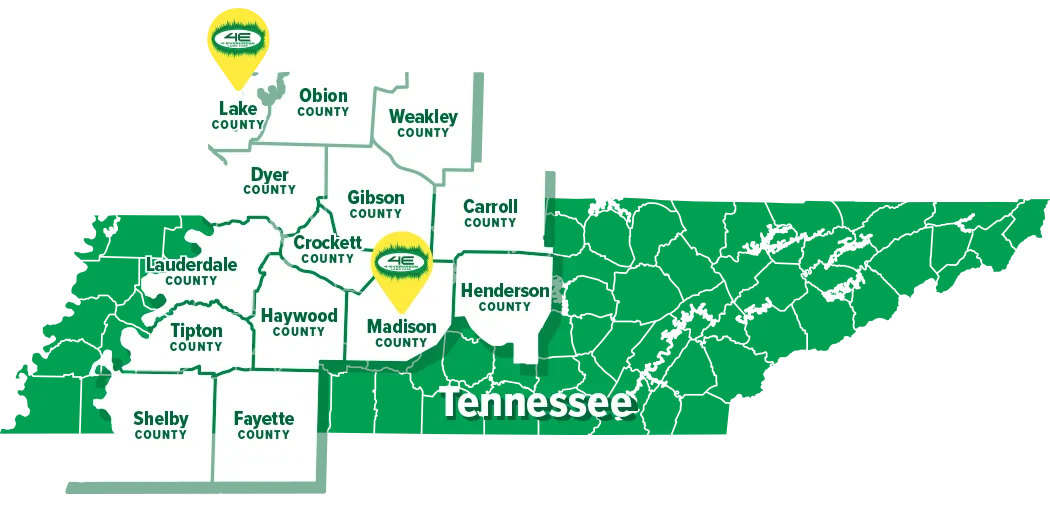 Year-Round Treatments for Seasonal Care
Your lawn needs care and attention year-round, which is why we offer lawn care services for all times of the year. Whether you struggle with weeds in the spring or dry patches in the winter, we're here to help you maintain a beautiful lawn you can be proud of. 4-Evergreen recommends eight treatments per year to create and sustain the lawn you're looking for:
Spring

—This time of year is critical for setting up your lawn for success. First, we will apply a series of post-emergent weed control in order to tackle any immediate concerns you may have. Then, we will apply pre-emergent weed control to ensure that your yard stays weed-free all spring long. At the end of the season, we will return to apply another round of post-emergent weed control in order to handle any possible return of weeds as well as promote the growth of new grass.

Summer

—The hot Tennessee sun will burn your lawn up before you know it. Our technicians will arrive in early summer to apply premium fertilizer to provide your lawn with the nutrients it needs to stay healthy and green. Our summer treatments continue throughout the season with re-application of fertilizer.

Fall

—Prevention is key, which is why during the early fall months we apply a pre-emergent herbicide to get a head start on any possible winter weeds that may occur. We also offer pH balancing services during the fall with our lime application service, which will restore healthy pH balances to your yard and prevent any future acidity that will leave your lawn dry and patchy.

Winter

—To keep your lawn resilient against the cold, we will apply a potassium treatment to encourage root growth and strength throughout winter, keeping your lawn resilient against cold.
Weed Control in Martin
At 4-Evergreen, we understand that weed removal is more than just a seasonal task - it's an essential part of maintaining a beautiful and lasting lawn.
When you choose our expert weed removal service in Martin, TN, which is part of our lawn care program, you can expect:
A detailed weed inspection conducted by our qualified technicians who are familiar with the common Tennessee weeds.
Year-round weed control using both pre- and post-emergent methods to prevent weeds from germinating and remove existing weeds.
Targeted weed removal that effectively gets rid of weeds without compromising the surrounding turf.
The use of EPA-approved herbicides that protect your lawn and the environment.
A weed-free guarantee, so you can have peace of mind knowing that your lawn will be free of weeds.
Ongoing monitoring to ensure that your lawn remains weed-free.
Don't let pesky weeds ruin the beauty of your lawn - trust our professional weed control service to keep your lawn looking its best. Contact us today for expert lawn spraying and comprehensive weed treatment in Martin.
Bed Weed Control
Are pesky weeds taking over your flower beds and ruining the beauty of your ornamentals? At 4-Evergreen, we have the solution for you - we offer our professional bed weed control as an add-on service.
Our environmentally-friendly weed treatments, including a tailored blend of post-emergent treatments and a slow-release pre-emergent formula, will get rid of those weeds and prevent new ones from germinating. We'll be with you every step of the way, monitoring your flower beds and providing 4-6 visits throughout the growing season to ensure optimal results.
Don't let weeds take over your beautiful flower beds. Choose our bed weed control service in Martin and enjoy a weed-free and vibrant landscape all year long.
Aeration and Seeding in Martin
An important yet commonly forgotten step in lawn maintenance includes aeration, the process in which soil is broken up in order to encourage seed growth as well as deeper penetration of water, nutrients, and sunlight into the soil. This is the first step in our seeding process where our technicians will break up the soil in the yard and follow it with the seeding of your choice. This way, you can have the exact lawn aesthetic you're looking for. We will then offer follow-up steps to take to ensure your yard grows as successfully as possible.
Mosquito, Flea, and Tick Control in Martin
Being proactive in your lawn maintenance is key to maintaining not only a beautiful lawn but a healthy one. Pest invasions can happen quickly and quietly, causing health issues for both your lawn and your loved ones. Common Tennessee pests such as mosquitoes, ticks, and fleas can carry dangerous diseases that threaten the safety of your family. This is why it's critical to contact us at the first sign of an infestation.
Our perimeter pest control creates a protective barrier that will keep pests out of your lawn and give you the peaceful yard you deserve. This service begins with a careful investigation of the lawn and home to identify what pests are currently present and possible entry points. Our technicians will then apply a preventative insecticide around both the perimeter of your lawn and your home to prevent any further invasions.
Lawn Care You Can Trust—Guaranteed
Our experienced technicians will do everything in their power to create the beautiful, healthy, and safe lawn you deserve. This is why we offer re-treatments as necessary to give you the results you need. Our satisfaction guarantee also ensures that you receive the care you're looking for. All we ask is that you give the lawn care 10-14 days to take effect in order to notice improvements. If you don't like the results, we'll return free of charge to fix any issues!