Lawn Care in Dyersburg, TN
Keeping your grass healthy and weed-free is both a science and an art. For over 20 years, our team of local technicians has prided itself on providing lawn care services uniquely tailored to your turf in order to provide a lush lawn, free of weeds.
Our lawn care treatments include: 
Seasonal Treatments

—As the seasons change, so do the needs of your turf. We provide up to 8 treatments throughout the year to address different seasonal concerns such as the emergence of weeds in the Spring and the Fall, encouraging growth in the growing season, and preparing your grass for cold weather. 

Multifaceted Weed Control

—We apply a pre-emergent weed control product to prevent weeds from germinating and a post-emergent to choke out existing weeds. 

Customized Lawn Care Programs

—Choose between our three lawn care programs, Premium (8 treatments per year), Deluxe (6 treatments per year), and Basic (5 treatments per year). Each program is designed to help you meet your goals while also staying within your budget. 

Utilization of Family and Eco-Friendly Products

—To eliminate weeds, prevent disease, and encourage growth without jeopardizing your ornamentals or the health of your family and pets. 

Lime and Potassium Applications

—Because healthy turf begins with healthy soil. That's why we test the pH of your soil and apply lime to ensure the soil has the optimal nutrients to encourage root development. We also apply potassium to help encourage root development. 
Schedule Your Treatments Today!
Contract-Free Services 
Although regular maintenance is the best way to ensure a healthy, vibrant lawn, we know that sometimes it can be hard to commit to ongoing care. At 4-Evergreen, we give you a chance to get to know us and see results without requiring you to sign a contract for any of our services. That's how confident we are that you will love our lawn care services!
Image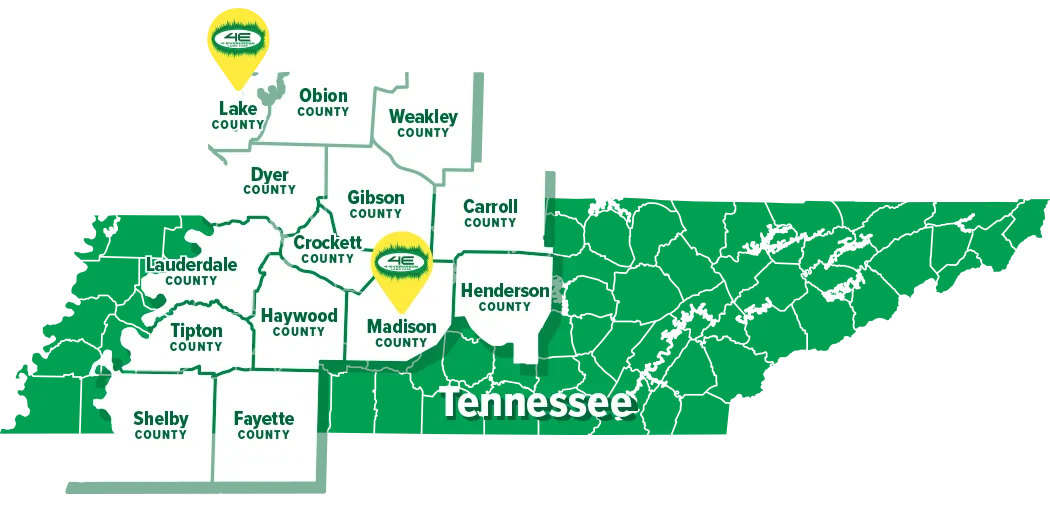 Weed Control in Dyersburg, TN
It's no secret that proper lawn care is the recipe for a perfect lawn, but it's important not to forget about the ultimate lawn killer: weeds. At 4-Evergreen, our professional weed removal service keeps weeds at bay, giving your grass the access to water, light, and nutrients that it needs to thrive. By working with a reliable, locally-owned business, you're sure to love your results. 
When you choose our weed control service, which is part of our comprehensive lawn program, we will:
Keep your lawn fertilized

for long-term results.

Implement seasonal treatments that put weed growth to a halt

before their seasons.

Perform pre-emergent treatments

for optimal weed prevention.

Apply post-emergent treatments

that stop weeds in their tracks.

Conduct targeted applications

for stubborn weeds.
Get Started With A Free Inspection!
Bed Weed Control 
Looking to give your flower beds the boost they need? Our add-on bed weed control package ensures your flower beds stay healthy and beautiful with just 4-6 yearly visits from our expert technicians. Because we opt for a structured approach, we can work to tackle the weeds before they become unmanageable. 
Our bed weed removal technicians will:
Take inventory

of your plants and flower beds.

Create a custom post-emergent treatment blend

that will get rid of common weeds.

Implement a slow-releasing pre-emergent formula

that keeps your plants guarded against weeds.

Time treatments perfectly

to prevent weeds throughout every season.
Aeration and Seeding in Dyersburg
While your turf may look great during the growing season, grass naturally begins to thin out as it ages. Aeration and seeding can help rejuvenate your turf and create new growth to help maintain a uniform look. Additionally, aeration can help to reduce soil compaction, break up thatch, and allow water, air, and nutrients to more easily reach your grass' roots. 
When aerating and overseeding, our team of local specialists will:
Use specialized equipment to create small holes in the turf to allow water and nutrients to penetrate the root system of your grass without disrupting the appearance of your lawn. 
Follow up with spreading grass seed throughout your yard to encourage new growth.
Add starter fertilizer to help the new seeds germinate and take root.
The result is a healthy, thick turf ready to withstand little feet, weather patterns, or disease.
Prioritizing Your Needs
At 4-Evergreen, we pride ourselves on our customer service. Our technicians take the time to listen to your concerns and discuss the treatment plan so you know exactly what steps we are taking to help your grass thrive. To ease your worries, we also offer: 
24-Hour Phone Lines

Free Inspections 

Saturday Servicing

Online Payments
Mosquito, Flea, and Tick Control in Dyersburg
Mosquitoes, fleas, and ticks cause unsightly, itchy bumps on humans and animals and can carry a host of diseases into your home. At 4-Evergreen we are committed to keeping your yard free from these pests all season long! Our treatment plan involves: 
Individualized Approach

—Before we begin treating your yard for mosquitoes, ticks, and fleas, we inspect for areas where these insects like to breed and apply a concentrated treatment to prevent the pests from multiplying. We then eliminate existing pests with an all-over treatment. 

Family-Friendly

—We care about the health and safety of your family and only use EPA-approved products to treat your yard. 

Treatment Options

—Whether you need a one-time treatment before an event or want to have a pest-free yard all summer long, we've got you covered with different treatment options.
Get the Lawn You Deserve
Lawn care is never easy, especially when you are busy taking care of other things. With help from 4-Evergreen, you can start enjoying the outdoors again without fear of weeds or pests, and even increase the value of your home. So if you're looking for personalized lawn care service, contact our team of lawn care professionals in Ridgely, TN,  today for a free quote.