About Us
4-Evergreen Lawn Care
4-Evergreen Lawn Care was established in 2001. What started out as one man with a dream and a truck has since turned into a dedicated team of highly trained individuals and a fleet of trucks, providing quality lawn care across West Tennessee, throughout Southern Alabama, and in Southeast Missouri.
Image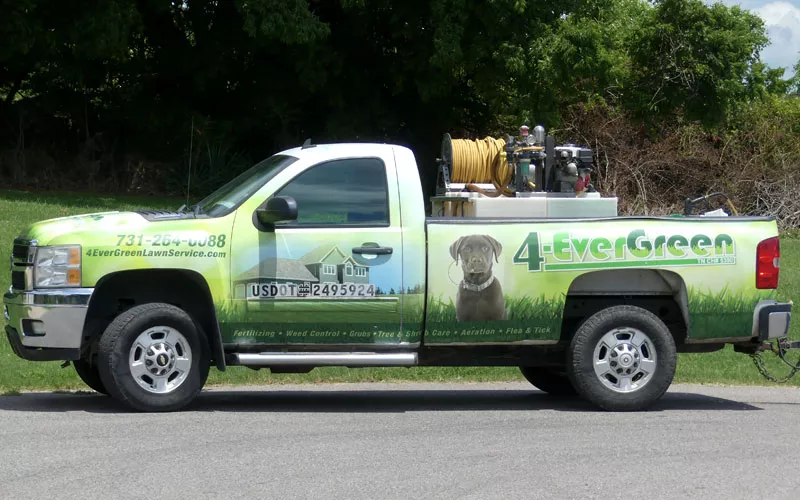 The Story of Us
A Small Business with a Big Heart
What started out as a part-time sales job for the largest lawn care company in the world ended up giving birth to this company called 4-Evergreen. The Owner/Operator, Scott Riley, was finishing up college and working in part-time sales for a National lawncare company. Though he initially had no idea what he wanted to do, in 2001, Scott decided to use the skills he knew and started 4-Evergreen. Being from a small rural area, many people often said 4-Evergreen would never make it, but Scott never gave up. He started building a team around him—a team that shared his vision in delivering the type of service that people want, can rely on, and be made to feel like family. 
Today, it's not uncommon to see 4-Evergreen treating a lawn wherever you may go in West Tennessee, Southeast Missouri, and Southern Alabama. It's the "never give up" mindset that the company still applies today to make sure our customers' lawns look amazing. This is no mere "fly-by-night" company—this vision will go on forever. 4-Evergreen trains daily to make sure we keep up with any changes in the industry. We operate with integrity and look for ways to give back to our communities either financially, or just through the giving of our time. And we will never give up! 
Our Commitment to You
We take our role in keeping your yard weed-free and looking beautiful all season very seriously. To ensure that you are delighted with the service we provide, we make these commitments to you:
Our customers are part of our family. 4-Evergreen team members treat each other with respect and dignity and we treat our customers as part of the family. We simply care about you.
We are committed to providing "Raving Fan" service. In our opinion, customer satisfaction is a failure. We are driven to perform at a higher level than any service provider you've ever used; in the lawn care industry, or any other industry for that matter.
The company is licensed, bonded, and insured in Tennessee, Alabama, and Missouri.
Our lawn technicians participate in rigorous, initial, and ongoing state-certified training programs to keep them at the top of their game.
Safety is a top priority. Both for our loyal customers and our team. We go over and above the call to ensure that we choose the right team members to send to your home, and we use the latest safety equipment to protect our team members.
Our Guarantee
We started our business from the ground up, and our success is founded on our commitment to building great relationships with our customers. We would not exist if it were not for the bonds that we've formed with each and every customer.
Our pledge to you is great service, at a fair price, delivered with care and concern for your needs. We stand behind our work 100%. We are driven to provide "Raving Fan" service and we will do whatever is necessary to make and keep our customer family thrilled with our service.
Keeping your lawn weed-free is both a science and an art. Each yard is unique and may require different, and multiple, applications techniques to achieve the results we all want. We ask our customers to allow 10-14 days after each treatment to see incremental improvement. If it's not what we said you'd see, or if you're just not as happy as you can be, we'll come back and re-evaluate or retreat if necessary. Whatever it takes.
Please understand that one application will help, but obviously not completely eradicate your problem. Therefore, multiple applications may be required for your lawn to reach its full potential of becoming weed-free and healthy. See our Lawn Care Program for more information.