Lawn Care in Kennett, MO
Keeping your grass green, vibrant, and luscious takes time and effort. Between finding the perfect blend of fertilizer, buying the right equipment, and preventing weeds, lawn care maintenance can seem overwhelming. At 4-Evergreen, we believe that you deserve the yard of your dreams without the headache of weekly yard chores. That's why we offer lawn care service with treatments scheduled throughout the year for sustained success throughout the seasons. 
Our professional lawn services include: 
​​​​​​​​​​​​​​

Fertilization

Weed Control

Aeration

Seeding

Mosquito Control 

Flea and Tick Prevention

And much more!
We Care About Your Needs
You look at your turf every day, and as concerns pop up, we're here to listen. We are available by phone 24 hours a day to ensure that when a problem arises you have someone to call. Our lawn care technicians strive to offer exceptional customer service so you can rest assured knowing your concerns are taken seriously and addressed appropriately. Read some of our Kennett lawn care reviews.
No Binding Contracts
If you want to have the type of yard all of the neighbors are talking about but don't want to be stuck in a binding contract, we offer contract-free servicing. We are confident that after a few treatments, you will realize just how invaluable our lawn care services are. And without contracts, you can try us out risk-free!
Image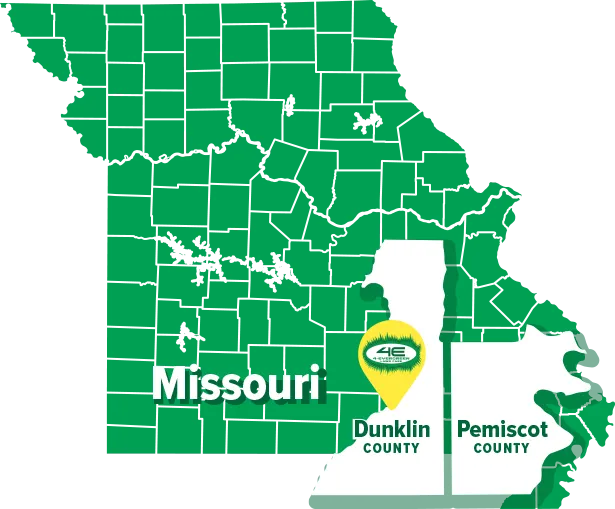 Personalized Service with Year-Round Care
Taking proper care of grass requires year-long care to ensure it has the treatments and solutions it needs to thrive and stay weed-free. Our targeted approach to lawn care involves scheduling services at optimal times during the year to ensure your grass has what it needs when it needs it. Our seasonal treatments include: 
Spring Weed Control

—Once spring weeds take root it can be hard to figure out how to choose a weed control product tough enough to get rid of the weeds, but gentle enough to allow your grass to continue to grow and thrive. Our technicians use their knowledge and expertise to assess what blend of weed control will work to defeat weeds common to our area while also helping your specific blend of grass to flourish. Not only are our weed control treatments effective to get rid of existing weeds, but we also use a specialized pre-emergent to prevent weeds from taking root in your yard. 

Summer Fertilization

—Throughout the summer months, we replenish nutrients zapped by the sunlight by applying a slow-release, granular fertilizer that keeps your grass food all summer long. We also continue to combat weeds to ensure your grassroots can keep all the nutrients to themselves. 

Fall pH Soil Balancing

—Have you ever tested the acidity of your soil? Over time your soil can become acidic, and acidic soil can be deadly for a healthy lawn. Every fall, we test your soil to make sure it maintains the proper pH to help your grass continue to thrive and achieve the results you want. 

Winterization

—Late fall or early winter, potash application helps strengthen your grassroots and prepares them to withstand the cold months ahead.  These yearly applications are included with every Premium Program and may just be the one extra thing you can do to make sure your grass is ready to go once the weather warms back up. 
Aeration and Seeding in Kennett
How many lawn tools can you fit into your shed? If you're like most homeowners, you may have room for the mower, but not much else. At 4-Evergreen we have specialized, professional-quality aeration and seeding equipment we use to help de-compact soil and evenly spread seed in bare spots.
Our aeration and seeding services include benefits such as: 
Preventing Bare Lawns

—If you frequently walk across your lawn or have kids or pets that play in your yard, your soil can be compacted down, preventing nutrients from freely flowing. This can result in bare spots or withering grass. With our high-tech equipment, we create some air holes in the soil to help prevent and remedy compacted soil. 

Power Seeding

—As grass ages, it begins to wither and bald just like us. Overseeding is the process of applying new grass seed to increase the longevity of your turf. Our technicians use professional equipment to ensure that the grass seed is evenly spread so you won't end with patches of new grass in a desert of aging grass. 

Knowledgeable Technicians

—Our technicians undergo extensive training to ensure that the grass seed we put out is compatible with our climate and the existing turf.
Mosquito, Flea, & Tick Control in Kennett
We aren't the only ones who love living in Kennett—it's also a prime breeding ground for mosquitoes, fleas, and ticks. These pests aren't only annoying, but they can also carry dangerous diseases they can pass on to your beloved family and friends. Our team is dedicated to helping you enjoy your newly manicured yard without worrying about disease-ridden pests. 
We use a multifaceted approach to fighting these insects by:
Eliminating current pests.

Preventing them from nesting

in your yard.

C

reating a protective barrier

around your property.
Once you begin to enjoy your outdoor space without these pests, we are confident you will want to keep your space bug-free all season long, which is why we recommend 2 to 3 treatments during the peak season!
Weed Control in Kennet
At 4-Evergreen, we know that weed removal isn't just a one-time job. A truly top-notch weed control strategy is the foundation of a lawn that thrives all year round. And as a locally-owned business, we're well-versed in the weeds that crop up in Kennett and how to keep them under control from season to season.
When you opt for our expert weed control program - an essential part of our lawn care service package - you can count on:
A thorough inspection from our certified technicians to identify any pesky weeds lurking in your lawn.
The most effective pre and post-emergent methods for all-encompassing treatment.
Targeted weed removal that won't harm your precious turf.
EPA-approved formulas that not only protect your lawn but our planet too.
A weed-free guarantee that'll have your lawn looking pristine all season long!
Bed Weed Control 
Looking to make your flower beds the envy of the neighborhood? Look no further than our bed weed control service, an easy add-on to our lawn care program in Kennett.
We'll take inventory of your precious ornamentals and create a bespoke mix of weed removal treatments.
Our slow-release pre-emergent formula ensures long-lasting weed prevention that keeps your flower beds and mulched areas pristine all year long.
We'll even time our visits with the growing season for optimal results.
Trust us with your weed control needs and watch your lawn flourish like never before. 4-Evergreen has got you covered.
Free Yourself From the Hassle of Lawn Care
Our high rate of customer retention and glowing reviews speak for themselves. For over 20 years, we have helped our neighbors reach their goals and we would love to help you fulfill your lawn care needs. If you're ready to get started with professional lawn care, contact our team of local lawn care experts in Kennett, MO, for a free estimate!