Lawn Care in Union City, TN
The struggle between wanting a beautiful yard and having the energy to maintain is one many homeowners face. At 4-Evergreen Lawn Care, we believe that you deserve a green, healthy lawn without having to stress about the work that comes along with it. That's why our lawn care service options include:
Fertilization

Weed Control

Aeration

Seeding

Mosquito Control

Flea and Tick Prevention

And more!
Lawn Care You Can Trust
4-Evergreen has been locally-owned and operated for over 20 years. Our lawn care team in Ridgely is full of skilled technicians, trained with hands-on experience so you know they know what they're doing. Our customers describe us as friendly, knowledgeable, and effective, and we are proud of the work that we do on each and every lawn. Call the company you know you can trust and contact us today to ask about your free estimate!
Image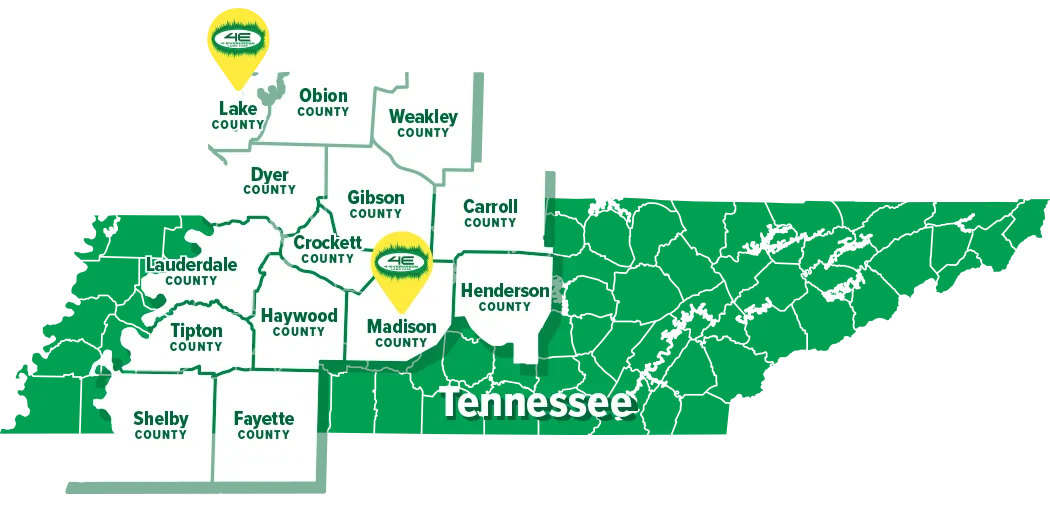 Year-Round Service You Can Rely On
As a locally owned company with over 20 years of experience, we know how to handle all seasons in Tennessee, which is why we offer our services all year round. This allows us to get to know your yard in depth, as well as protect it as best as we can from the troubles that arise with each season. 
Our seasonal services include:
Spring Weed Control

—Starting weed control early allows us to prevent future lawn care issues. Our weed control process includes an in-depth look at your yard by one of our technicians to determine which weeds are present. Once the inspection is performed, a post-emergent herbicide is applied to the lawn in accordance with which weeds were spotted. After the post-emergent treatment, we apply pre-emergent treatments to help protect your lawn from further weed growth throughout the spring season.

Summer Fertilization

—Hot Tennessee weather means dry, brown yards. On top of offering weed control throughout the summer months, we also provide fertilization services that will replenish your yard with the nutrients that it lacks during the dry season. This will allow you to keep a beautiful green lawn all summer long!

Fall pH Soil Balancing

—Fall is the time of year that customers begin to deprioritize lawn care as the colder months approach. However, this time of year is critical in implementing a process that will maintain a beautiful lawn throughout the fall and winter seasons. Testing the acidity of your lawn during the fall will tell us how in danger the lawn is being damaged due to high acid levels. If the acidity is high, we will apply a pH balancer to allow your lawn to continue to thrive.

Winterization

—During the dormant or winter months, we will use a dormant oil to coat the bark of your trees and shrubbery. This dormant oil will winterize the plant while keeping wood-destroying insects from burrowing into the plant, causing damage and disease that will cause expensive, time-consuming issues once spring comes around.
Aeration and Seeding in in Union City
Lawn aeration is a service in which the soil is pierced with tiny holes throughout the yard, allowing for water, fertilizer, sunlight, and nutrients to reach the root of the grass and allow it to grow fuller, greener, and healthier. Aeration also allows for deeper and more effective penetration of seeding services, allowing us to fill in any thin spots or brown patches in the yard.
4-Evergreen starts this process by aerating the yard with a machine that breaks the dirt up to make it easier for the seed to get in the ground. Our technician will then seed the yard with the seeding you choose and follow with fertilizer over the seeded area to ensure proactive growth. The technician will then go over the next steps to ensure that the seed will sprout, giving them the beautiful lawn they're looking for.
Outdoor Pest Control in Union City
The warm Tennessee weather doesn't only attract tourists—it also attracts pesky and dangerous pests such as mosquitoes, ticks, and fleas. These pests can carry diseases that can affect the health of you and your loved ones and are best handled immediately after noticing their presence. 4-Evergreen offers outdoor pest removal services, as well as preventative options to keep them from returning. 
Our perimeter pest control option allows the lawn care technician to apply a selective insecticide around the perimeter of your lawn as well as your home, to protect from any further pest infestations.
Weed Control in Union City, TN
At 4-Evergreen, we understand that maintaining a weed-free lawn is a year-round effort. We offer a comprehensive weed removal service in Union City that is designed to keep your lawn looking its best all season long.
With our expert weed control program, you can expect the following benefits:
A detailed weed inspection conducted by our qualified technicians to identify any present weeds.
Year-round weed control using both pre- and post-emergent methods, ensuring comprehensive treatment.
Targeted weed removal that specifically targets the weeds without compromising the surrounding turf.
The use of EPA-approved herbicides that not only protect your lawn but also our planet.
A weed-free guarantee, so you can have confidence in the effectiveness of our service.
Ongoing monitoring to prevent weeds from germinating and to maintain the beauty of your lawn.
Trust our team of professionals to provide top-notch weed control in Union City. Let us take care of your lawn so you can enjoy a weed-free and beautiful outdoor space. Contact us today for our exceptional lawn spraying services and say goodbye to unwanted weeds for good.
Bed Weed Control
Are weeds taking over your flower beds in Union City? Don't let them ruin the beauty of your ornamentals any longer. Our expert team is here to provide you with top-notch bed weed control service as an add-on that will have your flower beds looking pristine all year long.
With our comprehensive inspection, we'll identify the common persistent weeds that are plaguing your lawn and create a tailored blend of post-emergent treatments to effectively get rid of the weeds and prevent them from coming back. Our slow-release pre-emergent formula will ensure that new weeds don't germinate, keeping your flower beds weed-free. With 4-6 visits throughout the growing season, we'll monitor and treat your lawn to maintain its weed-free appearance all summer long!