Lawn Care in Ridgely, TN
It's hard to maintain your lawn on your own, especially when it comes to determining the nutrients it needs based on every season. You should be able to enjoy your outdoor space without the hassle. 
Providing up to eight treatments year-round, our expert lawn technicians are committed to protecting your space, and nourishing the area with a treatment plan tailored to your lawn's needs. That's why you should turn to us for lawn care in Ridgely, TN where our services are designed to give you a healthy lawn that lasts!
Our services include:
Fertilization Services

Disease Prevention Treatments

Weed Control

Fungus Control

Lime Application

And more!
Image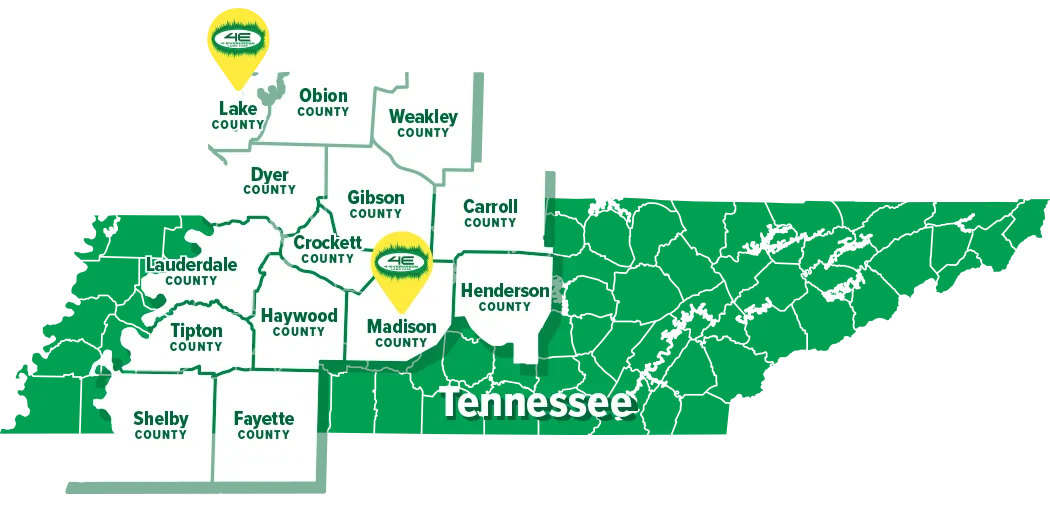 Year-Round Lawn Care Treatment Programs
After a free inspection, we make sure to diagnose problem areas and pair you with the most effective treatment plan. From our premium lawn care program to our most economical program, our services include multiple seasonal treatments, anywhere from five to eight, to make sure you're protected all year round. 
When you partner with us for lawn maintenance in Ridgely, TN, you can expect:
Seasonal Service:

to prevent weeds and disease, encourage root development and maintain healthy soil conditions, we dedicate ourselves to providing up to eight treatments throughout the year to address seasonal concerns like weed prevention, cold weather preparation, and growth promotion. 

Weed Prevention:

we provide pre-emergent and post-emergent weed control treatments to tackle weeds at all stages of life, keeping them from germinating and continuing to grow.

Tailor-made Treatment Plans:

we'll match you with one of our three lawn care programs designed to tackle the needs of your outdoor space without breaking the bank.

Lime and Potassium Application

: we test the pH of your soil and make sure to use lime and potassium application to encourage root development and make sure your soil is nutrient-rich. 

Fertilization:

we protect your yard during the dormant season to prepare root systems for the winter months and to maintain a healthy lawn during droughts in the summer, we make sure to apply fertilizer to give your grass the strength it needs to survive.

Family-Friendly and Eco-Conscious Products

: all products used by our team to keep your lawn happy and healthy will eliminate weeds, prevent disease, and promote growth without putting you, your loved ones, or your pets at risk.
Weed Control in Ridgely
At 4-Evergreen, LLC., we understand that weed removal is more than just a seasonal chore. It's a crucial part of maintaining a beautiful lawn that lasts. And as a local business, we know the specific weeds you'll encounter in Ridgely, TN, and how to keep them under control all year long.
When you choose us, you'll receive:
Detailed weed inspection: Our qualified technicians will carefully assess your lawn to identify any present weeds.
Year-round weed control: With both pre- and post-emergent methods, we'll ensure that weeds are prevented from germinating and treated effectively.
Targeted weed removal: We'll eliminate weeds without compromising the surrounding turf, leaving you with a beautiful lawn.
EPA-approved products: Our lawn spraying utilizes environmentally friendly and EPA-approved herbicides, ensuring the safety of your lawn and our planet.
Weed-free guarantee: We stand behind our service and guarantee a weed-free lawn. If any weeds persist, we'll come back and take care of them at no additional cost.
Ongoing monitoring: We won't leave you stranded after the initial treatment. Our team will continue to monitor your lawn and provide any necessary touch-ups to keep it weed-free.
So, why wait? Take control of your lawn and kick those weeds to the curb. Give us a call today for the best weed control in Ridgely. Trust us, your lawn will thank you.
Get Started Today With A Free Estimate
Bed Weed Control in Ridgely 
Are pesky weeds taking over your beautiful flower beds and ornamentals? Don't let those stubborn intruders ruin the vibrant charm of your outdoor space! We at 4-Evergreen, LLC. have just the solution for you. Our top-notch bed weed control service will ensure that your flower beds and mulched areas remain weed-free all year round, allowing your precious plants to thrive and flourish.
With our tailored blend of post-emergent treatments, we guarantee effective weed removal that will leave your flower beds looking immaculate. Our team of experts will take a detailed inventory of your treasured ornamentals to ensure that we provide the right treatment for your specific needs.
But we don't stop there. We believe in ongoing monitoring and proactive measures. With 4-6 visits throughout the growing season, our dedicated professionals will keep a close eye on your flower beds, ensuring no weed goes unnoticed. We'll prevent weeds from germinating, leaving your beds and mulched areas in pristine condition.
Lawn Aeration & Seeding in Ridgely
Are you tired of seeing your beautiful lawn suffer from stunted growth, thinning, and unsightly brown patches? It's time to take action and give your turf the care it deserves. Our lawn aeration service is here to promote healthier turf and ensure that your grass gets the nutrients it needs to thrive.
Our lawn aeration in Ridgely offers a multitude of features and benefits that will make your lawn the envy of the neighborhood. Check out what we have in store for you:
Dethatching: Our core aeration service includes removing excess thatch, allowing your turf to breathe and absorb nutrients more effectively.
Quick Results: With our efficient core aeration process, you'll start seeing improvements in your lawn in no time.
Long-lasting Treatments: Our lawn aeration and seeding in Ridgely provides deeper nutrient release, ensuring that your turf stays healthy and vibrant for the long haul.
Greater Rooting: By breaking up compacted soil, our core aeration service encourages greater rooting, leading to a stronger and more resilient lawn.
Lawn Seeding and Overseeding: As part of our comprehensive service, we offer lawn seeding and overseeding to fill in thin areas and enhance the overall density of your turf.
Expert Insights: Our experienced team will go beyond just providing the service - we'll also share valuable tips and tricks on watering, mowing, and maintaining your lawn to maximize its potential.
Hassle-Free Experience: We understand that you value convenience and flexibility. With our 24-hour phone lines, free inspections, and online payment portal, we strive to make your experience as smooth as possible.
Don't wait any longer to transform your lawn. Contact us today for our exceptional lawn aeration service in Ridgely and let us help you achieve the lush, green oasis you deserve.
Mosquito, Flea, and Tick Control in Ridgely
Imagine a summer without the constant buzzing and biting of mosquitos. Picture yourself lounging in your backyard, completely relaxed and free from fleas and ticks. At 4-Evergreen, LLC., we can turn this dream into a reality.
Our team of experts specializes in mosquito control in Ridgely, providing you with the peace of mind you deserve. Here's what sets our service apart:
Free inspection: Our team will come to your property and conduct a comprehensive inspection, identifying areas where mosquitoes breed and thrive.
Customized treatments: We understand that every property is unique. That's why we tailor our treatments to meet your specific needs, targeting mosquito-friendly areas and disruption of the breeding cycle.
Eco-friendly EPA-approved products: We prioritize the safety of your family and the environment. Our treatments are eco-friendly and use EPA-approved products that are safe for children and pets.
Recurring applications: To ensure your lawn stays mosquito-free all summer long, we recommend recurring treatments every 4-6 weeks. Our team will work with you to create a schedule that fits your needs.
Trust us to handle your flea and tick prevention needs as well. Our specialized treatments target these pests, eliminating adults and preventing their eggs from hatching. We also take care of existing fleas and ticks in one swoop. With our flea and tick control services, you can enjoy your outdoor space without worrying about these annoying intruders.
24-Hour Phone Lines for Round-the-Clock Care
We understand that an issue can arise with your lawn at a moment's notice. Maybe you've come across unexpected weed growth or you've forgotten to schedule a core aeration treatment. No matter the issue, big or small, we're here for you around the clock with our 24-hour phone line service to provide support at any moment! 
We pride ourselves on our commitment to customer care which also includes:
No Contracts: receive superior lawn care without the hassle of committing to a contract.
Online Payments: paperless billing for easier transactions.    
And more!
To learn more about our customer experience, check out reviews for our lawn care services in Ridgely.