Lawn Program in Jackson, TN
Taking care of your landscape can not only be time-consuming, but it also doesn't always give you the results you want. That's why our lawn program in Jackson focuses on personalized treatments that guarantee results, giving you the healthy, weed-free yard you deserve. Not only does this provide peace of mind, but it allows you more time to spend with your family in your outdoor space.
Our lawn treatment options include services such as:
Weed Control and Prevention
Fertilization
Soil pH balancing
Aeration 
Overseeding 
Mosquito Control
Flea & Tick Prevention
And more!
No Strings Attached!
As a family-owned and operated business with over 20 years of local experience, we know that things change and unexpected circumstances arise. And though we offer recurring treatment plans, we do not require contracts for any of our services. If something changes, simply give us a call via our 24-hour phone line and we'll cancel your next service without any questions asked.
To learn more about our customer experience, check out reviews of our lawn program in Jackson.
Image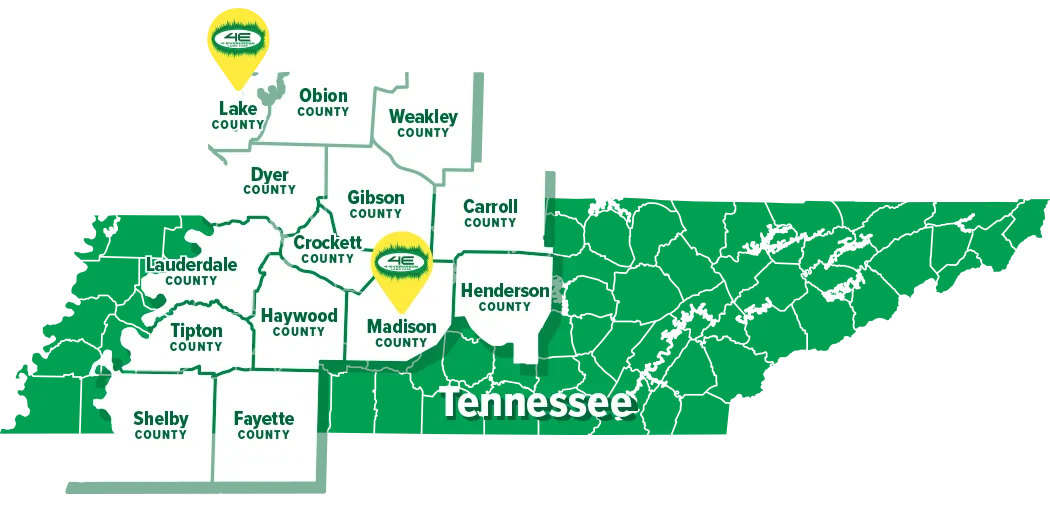 Year-Round Lawn Servicing
Say goodbye to weeds and a lackluster lawn! Our lawn services in Jackson, TN are designed to provide the utmost care to your turf and may include up to eight-yard treatments throughout the year, depending on your program, to ensure that your grass is getting the nutrients it needs at the right time. 
In the spring, we schedule two service dates to apply an eco-friendly, pre and post-emergent to prevent spring weeds from sprouting and quashing existing weeds. These weed-control treatments are aptly timed as weeds can quickly take over when the weather begins to warm up and things begin to bloom. 
In the summer, we schedule three service dates. These services include not only weed-control treatments but also a customized blend of slow-release fertilizer to ensure your grass stays green all summer long. 
In the fall, we return for re-application of pre and post-emergent to tackle any cool-weather and winter weeds. We also help your lawn prepare for the dormant season by applying lime to enrich the soil. 
In early winter, we apply a health booster to your turf through the application of potash which works by encouraging root development.
Claim Your Free Estimate Today!
Personalized Lawn Treatment Plans
When it comes to your turf, consistency is key. That's why we offer three lawn servicing programs to help you get the healthy, vibrant turf you've always dreamed of. After a free, comprehensive inspection, we will work with you to find the best plan to address your needs:
Premium Lawn Program—Includes all eight seasonal treatments to provide maximum care to your turf!
Deluxe Lawn Program—Our most popular service plan includes six seasonal treatments.
Basic Lawn Program—Includes five seasonal treatments to prevent weeds and encourage growth.
Weed Control in Jackson
At 4-Evergreen, we understand weed removal is much more than a seasonal task. An effective weed control strategy is essential to lawn care that lasts. As a locally-owned business, we're familiar with the weeds you'll encounter in Jackson and how to keep them under control all season long. 
When you choose our expert weed control program, which is part of our lawn care service package, you can expect:
A detailed walk-around

from our qualified technicians to identify present weeds.

Both pre and post-emergent methods

for comprehensive treatment.

Targeted weed removal

without compromising the surrounding turf.

EPA-approved formulas

that protect your lawn and our planet.

A weed-free lawn guaranteed!
Bed Weed Control
Bed weed control is an additional service we offer to help your flower beds and ornamentals thrive. This service focuses on keeping your flower beds and mulched areas free of common weeds all year long. When you trust us with bed weed control, we will:
Take a detailed inventory

of your treasured ornamentals.

Blend a custom mix

of post-emergent treatments for weed removal.

Apply a slow-release pre-emergent formula

for weed prevention that lasts.

Time our visits

with the growing season for optimal results.
For weed control service that looks out for the health of your entire lawn, look no further than 4-Evergreen.
Aeration and Seeding in Jackson
If you have noticed brown patches or bare spots in your yard, you may be wondering what you can do to solve the problem. Over time your soil compacts down, preventing water and nutrients from flowing freely to the roots of your grass. This results in the unsightly appearance of lawn deformities. 
Our team at 4-Evergreen tackles this problem head-on by:
Using our professional equipment to

loosen up the top-soil

in your yard without destroying existing grass

Treating bare spots by adding seed

to your existing turf with a custom blend of grass seed designed to thrive in your lawn and blend in with existing grass.

Adding starter fertilizer to help the new grass seeds thrive.
This process helps keep your turf full of youth and vigor without the need to start grass from scratch.
Mosquito, Flea, and Tick Control in Jackson
There's nothing more relaxing than kicking back on your porch after a long day. Unfortunately, mosquitoes, fleas, and ticks can ruin the experience of being outside and send you running back indoors.
When you choose 4-Evergreen for your outdoor pest control, you can expect: 
Targeted treatments

designed to eliminate existing pests and infiltrate into nests to prevent new mosquitoes, fleas, or ticks from hatching. 

Family-friendly treatments

designed to be harsh on pests but safe for kids and pets.

Custom Treatment Options

- we offer recurring mosquito control treatments to keep your outdoor space free from mosquitoes all year long or a one-time treatment for an upcoming party or outdoor gathering.  
Our team at 4-Evergreen is ready, willing, and able to partner with you to eliminate mosquitoes, fleas, and ticks using our family-friendly treatments. Give us a call today for a free estimate on our treatment plans. 
Budget-Friendly Treatment Options
If you want a beautiful, pest-free yard but are worried about how to reconcile your treatments with your budget, give us a call. We offer free inspections for all your services and can work with you to find a treatment plan that addresses your specific needs at a price you can afford!