Areas We Service Around Spanish Fort
We proudly offer our lawn care and outdoor pest control services in many communities around Spanish Fort, including:
Orange Beach, AL
Saraland, AL
Semmes, AL
And many more!
Lawn Care in Spanish Fort, AL
Ensuring that your grass has everything it needs to be green and uniform often takes more work than you expect. From choosing the right blend of fertilizer to help your turf thrive, to de-compacting soil, your lawn care to-do list can quickly become out of control. With over 20 years of experience caring for lawns, we have the time, knowledge, and tools to keep your property in its prime.
Our turf treatments in Spanish Fort include: 
Weed Control and Prevention

Fertilization

Soil pH balancing

Aeration 

Overseeding 

Mosquito Control

Flea & Tick Prevention

And more!
Schedule Your Consultation Today!
We Work Around Your Schedule
We know that you're busy and it can be overwhelming to add one more thing to your to-do list. At 4-Evergreen, we are dedicated to working with your schedule, not against it. We offer 24-hour phone lines and Saturday servicing, to ensure that we're available when you are.
Learn more about our dedication to customer service by checking out reviews of our lawn care service in Spanish Fort.
Image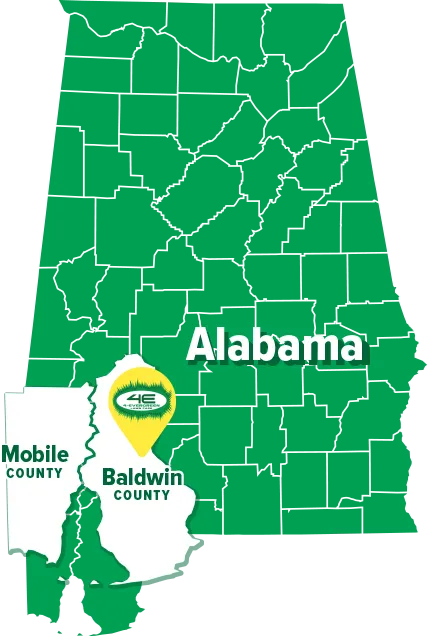 Year-Round Lawn Treatments for Lasting Results
Getting the yard you want doesn't happen overnight. Instead, it takes consistency and year-long care to ensure your grass stays green and healthy. To get the results you want, we take a seasonal approach to lawn care to ensure that your grass is getting nutrients during the growing season, protection during the dormant season, and targeted weed control twice per year. We have packaged these treatments into three programs ranging from 8 to 5 treatments per year depending on your needs. More specifically, our lawn care programs include treatments such as: 
Lawn Fertilization

—Your turf needs food just like we do. We provide nutrient-dense, slow-release granular fertilizer starting in early spring and continuing throughout the summer to promote healthy, green growth.

Weed Control

—Weeds not only ruin the uniform appearance of your yard, but they also take nutrients away from your grass, threatening the health and vitality of your yard. Our technicians target weeds through spring and fall applications of pre and post-emergent to strangle out any existing weeds and prevent new ones. 

Winter Preparation

—Soil acts as a blanket protecting the roots of your grass from colder weather, which is why early winter is the perfect time to restore soil conditions.  We prepare your soil for the dormant season by testing the pH of your soil and applying the appropriate amount of lime to bring the pH back to proper levels. For our Premium program subscribers, we also give your grassroots an extra boost through potassium application to ensure the roots are strong and ready to withstand the winter. 
Call Us Now to Schedule Your Treatment!
Trained, Knowledgeable Lawn Professionals
As a locally owned and operated company, we believe in treating our customers like family and providing you with the most fastidious lawn care. All of our technicians undergo extensive training with a seasoned lawn care professional to ensure by the time they show up at your door, they have the knowledge, training, and expertise to keep your turf looking good all year long.
Weed Control in Spanish Fort
Whether you're an avid gardener or not, weeds can really put a damper on the care and keeping of your lawn. Weeds are persistent, and can even survive being pulled by scattering seeds or deepening root networks that don't get fully removed. For weed control that actually works, you need comprehensive weed control from the professionals at 4-Evergreen.
When you get weed control from 4-Evergreen as part of our full-service lawn care program, you can expect:
Integration with lawn fertilization

for grass that outcompetes weeds in the first place.

Seasonal weed control

to catch weeds before they emerge and eliminate invaders.

Both pre and post-emergent weed control

for all-around effectiveness.

Targeted weed control

for common culprits like crabgrass and broadleaf.
With weed control as part of your program from 4-Evergreen, you can look out onto your lawn with pride as you leave weeds behind.
Bed Weed Control in Spanish Fort
Our bed weed control program is an add-on service to our lawn care treatments and looks out for the overall health of your flower beds for year-round weed resistance. When you trust us with your garden beds, you can expect 4-6 visits throughout the year where a qualified technician will:
Take a detailed inventory

of your treasured plants.

Develop a custom mix

of post-emergent treatments to kill common nuisance weeds.

Apply slow-release pre-emergent weed control

for lasting protection.

Keep treatments seasonally appropriate

for the best possible results.
If you're tired of fretting over your flower beds, call 4-Evergreen for certified expertise on improving the health of your beds with seasonal weed control.
Aeration and Seeding in Spanish Fort
Brown patch and bare spot prevention go beyond proper fertilization—compacted soil can prevent your grass from getting proper hydration, air, and other natural nutrients. 
Our technicians utilize our high-tech equipment and professional expertise to gently loosen the top layer of soil through the creation of small, thumb-size holes.
The excess dirt is then redistributed throughout your yard to ensure the nutrients go right back into your soil.
We then distribute additional seed to remedy any patchy or thinning spots for a lush turf.
Lastly, we spread starter fertilizer across the area to encourage germination and growth.
For the best results, we recommend aeration and overseeding treatments every fall, but treatments can be stretched out to every three years if necessary.
Mosquito, Flea, and Tick Control in Spanish Fort
After being cooped up inside all winter, the first thing you want to do on that first warm day is open up the doors of your home and enjoy your perfectly manicured yard. Unfortunately, you aren't the only one enjoying the warmer weather—this time of year, mosquitoes, ticks, and fleas begin to breed and multiply in your own backyard. 
Our mosquito, flea, and tick control treatments in Spanish Fort are designed to keep these pests at bay so your family can utilize your outdoor space without fear of itchy, swollen bites. Here's how you can benefit from these treatments: 
Kid and Pet Friendly

—The safety of your family, including canine and feline companions, is our top priority. All of our mosquito, flea, and tick treatments are formulated with EPA-approved products to keep your loved ones protected from pests and harmful chemicals. 

Varied Treatment Plans

—Keep your yard mosquito-free all season long with two to three treatments during peak season or prepare for an event with a one-time treatment. 

Targeted Approach

—Our targeted approach to treatment prevents mosquitoes, fleas, and ticks from breeding and multiplying in your backyard, leading to fewer pests overall.