Lawn Care in Gulf Shores, AL
Having a beautiful, lush, green lawn can add a lot to your home's overall ecstatic and curb appeal. Unfortunately, proper lawn maintenance can be extremely time-consuming and tedious. If you want a green, well-maintained turf without all the hassle, look no further than 4-Evergreen, LLC.
We offer lawn care programs in Gulf Shores such as:
Weed Control and Prevention

Fertilization

Soil pH balancing

Aeration 

Overseeding 

Mosquito Control

Flea & Tick Prevention

And more!
Image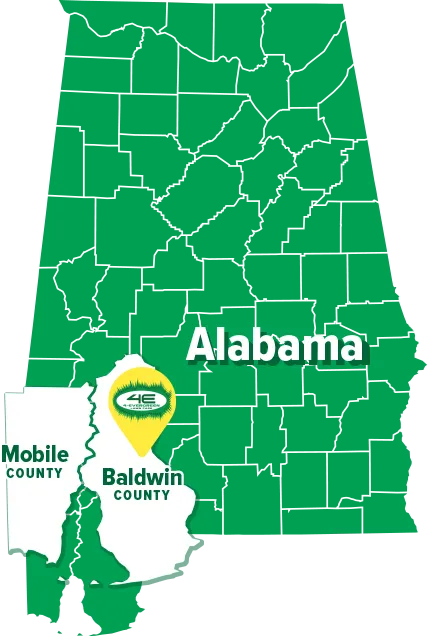 Year-Round Treatments With Proven Results
Every part of your landscape is important and needs a different kind of care. Luckily, our experienced team offers every lawn service for you that may be needed. With over 20 years of experience, our team of lawn technicians from Spanish Fort, AL, knows what it takes to give your turf the year-round care it needs.
Our lawn care package includes: 
A comprehensive inspection of your yard to identify the needs of your turf.
Recurring, personalized treatments and applications.

Plant growth regulator

to give you a lawn that needs to be mowed less frequently.

Pre and post-emergent herbicide

.

Lawn aeration

so your soil can breathe for a happier, better-growing lawn.

Moisture manager

so the grass in your yard retains water longer. 

24-hour phone service

to answer all your questions and concerns.

And more!
Weed Control in Gulf Shores
At 4-Evergreen, we know that weed removal is more than just a seasonal task - it's an essential part of maintaining a beautiful lawn all year round in Gulf Shores, AL.
With our expert weed control service, you can expect:
A thorough and detailed weed inspection from our qualified technicians, who are familiar with the common persistent weeds in Gulf Shores.
Year-round weed control using both pre- and post-emergent methods to prevent weeds from germinating and to effectively treat existing weeds.
Targeted weed removal that eliminates weeds without causing harm to the surrounding turf.
We use EPA-approved herbicides that not only protect your lawn but also the environment.
Our weed-free guarantee ensures that you will have a lawn free from weeds.
Ongoing monitoring and maintenance to ensure that your lawn stays weed-free all season long.
Don't let weeds take over your lawn. Trust our professional weed removal service to get rid of weeds and provide effective weed control in Gulf Shores. Contact us today for a lawn spraying treatment that will keep your lawn beautiful and weed-free. 
Bed Weed Control
Are weeds taking over your beautiful flower beds? We've got you covered. Our comprehensive, add-on bed weed control service in Gulf Shores is designed to keep your flower beds and ornamentals thriving all year long.
With our comprehensive inspection, we'll identify the common persistent weeds and create a tailored blend of post-emergent treatments to effectively remove those pesky weeds. But we don't stop there—we'll also apply a slow-release pre-emergent formula to prevent future weed growth and keep your flower beds looking pristine.
With our ongoing monitoring and 4-6 visits throughout the growing season, we'll ensure that your flower beds stay weed-free and beautiful all year long.
Lawn Aeration in Gulf Shores
Are you tired of dealing with a lackluster lawn? Do you dream of having lush, green grass that is the envy of the neighborhood? Well, look no further! Our lawn aeration service in Gulf Shores is here to save the day. Not only does it promote healthier turf, but it also tackles thatch buildup head-on.
With our cutting-edge core aeration technique, we can quickly and effectively remove excess thatch and allow your lawn to breathe. This process creates space for air, water, and nutrients to penetrate deep into the soil, resulting in greater rooting and stronger, healthier grass.
So why wait? Say goodbye to lackluster grass and hello to a vibrant, thriving lawn. Contact our lawn aeration service in Gulf Shores today and experience the difference for yourself.
Mosquito, Flea, & Tick Control
Take back your yard and enjoy the warm months without worrying about mosquitoes, ticks, and other pests. Our team at 4-Evergreen is here to help you reclaim your outdoor space and make it a pest-free paradise.
With our expert mosquito, flea, and tick control in Gulf Shores, we will conduct a free inspection of your yard to identify problem areas and create a customized treatment plan based on your property.
Using eco-friendly EPA-approved products, we will disrupt the breeding cycle of outdoor pests and eliminate existing ones, providing you with long-lasting mosquito prevention.
We will treat areas where mosquitoes, fleas, and ticks commonly hide, such as tall grass, bushes, and underneath decks, as well as around standing water.
With recurring applications every 4-6 weeks, we will keep your lawn protected all summer long.
At 4-Evergreen, we prioritize the safety of your family and pets, which is why our treatments are safe and effective while not harming the surrounding ecosystem.
No contracts are required - we work with you to meet your needs, providing contract-free service options.
Contact us today for a free estimate and take the first step towards reclaiming your outdoor space and enjoying a pest-free yard all year long.