Lawn Care in Daphne, AL
Tired of spending every weekend knee-deep in weeds? Having a weed-free, healthy yard takes time, effort, and expertise. Our team at 4-Evergreen offers lawn maintenance service for homes throughout Daphne. We pride ourselves on our ability to deliver amazing results for your allowing you to skip tedious yard chores and useless DIY yard rejuvenators. Our treatments include:
Weed Control and Prevention

Fertilization

Soil pH balancing

Aeration 

Overseeding 

Mosquito Control

Flea & Tick Prevention

And more!
Experienced, Local Lawn Care Professionals
We have been providing exceptional, local lawn care services for over 20 years. Over the years, we have learned how to quickly recognize and diagnose common diseases, nutrient deficiencies, and pest problems. And as a result, we have developed a track record of happy customers that are so thrilled at the results, they keep coming back for more.
Contract-Free Treatment Programs
If you have commitment issues, you're not alone. Instead of trapping you into a binding contract, our lawn care technicians in Spanish Fort offer contract-free servicing. We believe in earning your business through exceptional customer service and unrivaled results. Given our high rate of customer retention, we're confident you'll be satisfied too.
Image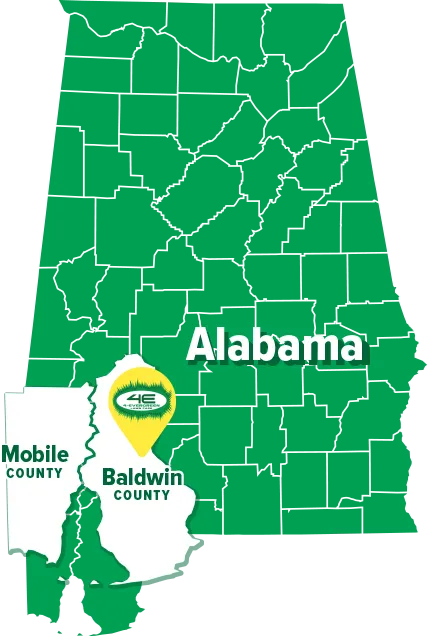 Year-Round Treatments for Seasonal Care
Throughout the year, your turf needs different things to maintain its thickness and vibrancy. We take the responsibility of figuring out how to care for your grass off your shoulders by providing treatment programs that include up to 8 lawn care treatments throughout the year, so your turf is receiving the most care during the peak season and preparatory treatments during the off-season. 
Fertilization
Instead of treating your grass with a commercialized, bland fertilizer, our technicians take the time to diagnose your needs and work with you to diagnose any problem spots.
The technician utilizes their expertise and diagnosis to

create a custom-blended fertilizer

designed to address the issues specific to your lawn. 

Depending on the time of year,

we also apply different forms of fertilizer

. For example, in the summer, we apply a slow-release, granular fertilizer to ensure your lawn has a continuous source of nutrients. However, as the weather gets colder we apply a quick-release, root-strengthening fertilizer to ensure your turf is able to quickly transition to the dormant season.
Weed Control
Although all weeds may look the same, different weeds pop up in the spring and fall.
Our technicians are s

pecially trained to recognize common seasonal weeds

in our area and apply specialized treatments to eliminate these seasonal weeds and prevent new weeds from germinating.

We also offer a custom crabgrass prevention treatment that provides a barrier around your lawn to prevent crabgrass from encroaching on your property line.
Weed Control in Daphne
At 4-Evergreen, we know that weed control goes hand-in-hand with having a healthy lawn. You want a turf free of weeds, but at the same time, when your lawn has the proper seasonal care and fertilization, it grows strong enough to outcompete weeds. 
That's why weed control service is part of our comprehensive lawn program, and it includes:
Integration with lawn fertilization

for optimal, lasting results.

Seasonal treatments

designed to stop weeds before their seasons.

Pre-emergent weed control

for effective prevention.

Post-emergent weed control

that stops weeds in their tracks.

Targeted applications

for stubborn weeds like crabgrass and broadleaf.
When you choose 4-Evergreen for weed control as part of your lawn care program in Daphne, you can be confident that weeds don't stand a chance. 
Bed Weed Control in Daphne
Bed weed control is an add-on service we offer to revitalize your flower beds. We take a systematic weed control approach with 4-6 visits throughout the year to keep your ornamentals healthy and weed-resistant. 
Our bed weed control process includes:
A comprehensive inventory

of your beloved plants.

A custom blended post-emergent treatment

designed to kill common weeds

Slow-release pre-emergent formula

that boosts ornamentals' defenses.

Carefully timed treatments

for weed prevention in every season
If you're tired of weeds popping up in your flower beds day after day, get the certified experts at 4-Evergreen to set your beds up for success. Learn more today!
Aeration and Seeding in Daphne
Fall is a vital time for lawn care, as your grass begins to settle down before the winter months ahead. Before the ground becomes hard and frozen, we recommend yearly aeration.
Aeration involves using specialized equipment to create small holes in the soil to avoid compacted soil that's unable to transport nutrients to the grassroots below.
We then follow aeration by spreading seed evenly overtop of existing grass.
Lastly, we apply a layer of starter fertilizer to help the new seeds germinate and take root.
Fall is the perfect time to replenish grass with new sprouts as the less extreme temperatures provide the perfect environment or new grass to take root and thrive.
Mosquito, Flea, and Tick Control in Daphne
No matter how you choose to enjoy the outdoors—sunbathing, gardening, or playing with your kids—mosquitoes, fleas, and ticks are always lurking, ready to ruin your day. Our mosquito, flea, and tick control services in Daphne help you retake your lawn and get back to enjoying the long summer days. 
Our effective treatments involve:
Keeping these pests at bay through

targeting their breeding grounds

and creating an inhospitable environment for live pests. 

Two to three recurring treatments during peak season

or a one-time treatment for events and parties. And most importantly

Treatments that are

environmentally friendly and kid-approved

for fun all summer long.