Lawn Care in Fairhope, AL
Entrusting your lawn care to professionals can be a difficult decision, but we are confident that using our team will be the fastest way to get you the beautiful lawn that you deserve. As a locally owned and operated lawn care company for over 30 years, we have a deep understanding of the specific needs that our lawns have based on the climate we live in. 
Whether you need simple maintenance or a complete lawn makeover, we are here for you. If you are struggling with any of the following issues, then it may be time to give us a call: 
Brown spots

Bare spots

Dead or lifeless grass

Turf discoloration

Weed growth

And much more!
Safe And Effective Lawn Care
Some lawn services may use harsh chemicals and pesticides in order to achieve results, but it is clear that those products can have a long-term negative impact on both your lawn and the wider ecosystems. All of our lawn care technicians are expertly trained in utilizing only EPA-approved lawn products to ensure the safety of your family and pets, whilst still being effective.
Flexible Scheduling To Fit Your Needs
Our lawn care program in the Spanish Fort area comes with flexible scheduling options so that we can work around your busy schedule and limit any potential disruption you may encounter. What's more, for those emergency situations we even offer same and next-day servicing so that we can be there when you need us.
Image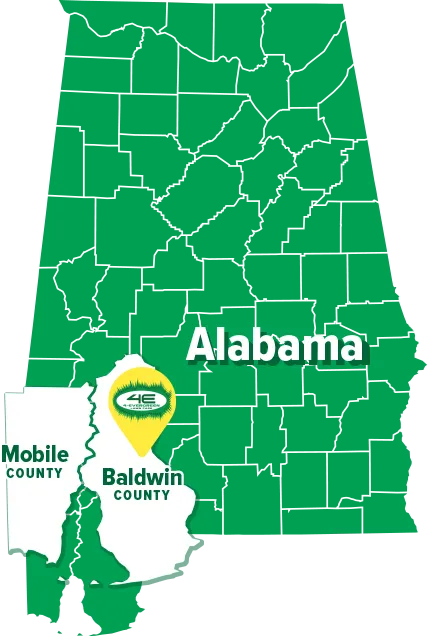 Customized Treatments for Guaranteed Results
We firmly believe that everybody deserves a lawn that they can be proud of, which is why our lawn care team is trained to help identify your lawn's needs and work with you to create a customized treatment schedule. Along the way, we will always make sure to openly communicate our intentions and costs, and make sure to always address your questions and concerns.
When you choose to partner with 4-Evergreen lawn care, you will receive:
A free, comprehensive inspection

to get a better understanding of your lawn's needs.

Spring and fall pre-emergent weed treatments

as controls for crabgrass, broadleaf weeds, and other common weeds all year round. 

Post-emergent weed control

to limit any weed growth that does occur. 

Balanced fertilization

to promote strong and healthy growth. 

Granular lime application

to make sure your soil pH levels stay consistent.

Upfront discounts, discounts on pre-paid services, and our flexible no-contract options.
Guaranteed Lawns With Every Service
We are confident in the skill of our technicians and proud of each and every lawn that we work on. As our way of proving this to our customers, we guarantee each and every service that we provide. That means that if you are unhappy or unsatisfied with a treatment, we will then do everything in our power to make it right, including offering free re-treatments!
Weed Control in Fairhope
Fighting stubborn weeds, like crabgrass and dandelions, is no fun—not to mention time-consuming. Instead of pulling them by hand or using a store-bought weed killer that can damage your grass, trust our weed control in Fairhope. It's included in our lawn care package, so you don't have to worry about scheduling additional services. We make it easy to take care of your grass!
When you partner with us for weed removal, we will:
Use pre-emergent products

that stop weeds from sprouting.

Target existing plants with post-emergent products

that won't hurt your grass.

Give you our satisfaction guarantee

, which includes free re-treatments as needed.

Treat flower beds

for an additional fee.
Bed Weed Control
Sharing your flower beds with weeds is not only unsightly, but it's also bad for your ornamentals. Unwanted foliage, like nutgrass and dallisgrass, steals important resources like sunlight, water, and nutrients. To protect your shrubs and flowers, trust our bed weed control in Fairhope! We treat carefully and schedule 4-6 visits throughout the year for the best results.
Aeration & Overseeding in Fairhope
If your lawn is unhappy no matter how much you fertilize or water it, the issue might be soil compaction. Soil naturally compacts over time, making it tough for grassroots to receive the water, nutrients, and oxygen they need. This causes a thin, yellow, and unhealthy lawn. 
To undo this damage, trust our turf aeration and overseeding in Fairhope! We'll break up hard soil and thatch buildup, then fill in bare patches with high-quality grass seed.
Benefits of core aeration include:
Improved soil quality

Increased water absorption

Less thatch buildup

Stronger root system

Better drought and disease resistance

Thicker, healthier grass
Mosquito, Flea, and Tick Control in Fairhope
Are pesky yard insects like mosquitoes, fleas, and ticks ruining your outdoor fun time? Let 4-Evergreen help you take back your backyard in Fairhope with our safe and effective outdoor pest prevention services.
Our team offers:
Free inspection to assess your pest situation.
Eco-friendly, EPA-approved products that won't harm your family or the environment.
Comprehensive mosquito treatment and prevention services.
Flea and tick prevention and control, targeting problem areas like tall grass and decks.
Keep your family safe and your outdoor space pest-free with 4-Evergreen. No contracts are necessary—just top-notch service and results. Contact us today for a free estimate.