Lawn Care in Mobile, AL
Boost your curb appeal with 4-Evergreen's lawn treatment plans designed to provide the best results for your lawn! Located in the Mobile-Tensaw River Delta, Mobile is home to one of the world's largest wetland ecosystems, which brings with it its own challenges. Luckily with a lawn care office in Spanish Fort, our team's extensive knowledge of the local climate and attention to detail will ensure that your lawn remains healthy and beautiful year-round! 
Our lawn care treatments in Mobile include:
Fertilization 

Lawn Aeration

Weed Control and Prevention

Flea and Tick Prevention

Mosquito Control 

Soil pH Balancing 

And more!
Claim $25 Off Your First Treatment!
Qualified Lawn Care Professionals 
4-Evergreen has been in the lawn care business for over twenty years! As a local business, we pride ourselves on being experts in the unique needs of the Mobile area. Our team of lawn technicians has undergone extensive state-certified training programs so they are equipped to tackle the unique needs of your lawn. If you are not satisfied with your lawn care results, we will return and retreat at no additional charge!
Image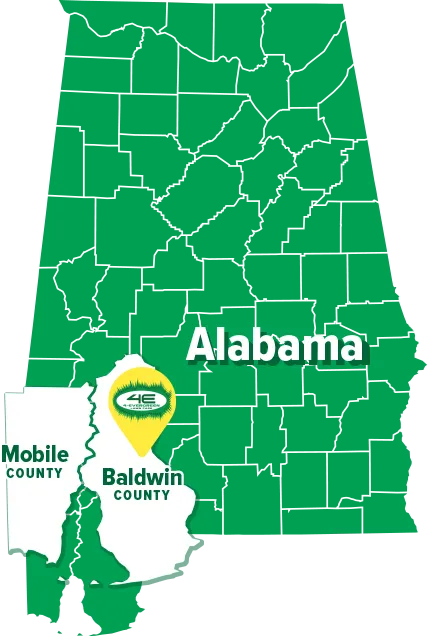 Weed Control in Mobile
At 4-Evergreen, we know that the battle with undesirable plants in your grass is constant. But weeds are not only unattractive—they endanger the health and vitality of your grass by stealing resources, such as sunlight, nutrients, and oxygen. That's why we include weed control as an integral part of our trusted lawn care programs. 
When you sign up for our comprehensive lawn care program, you will receive:
Recurring lawn fertilization

to foster grass that is thick enough to prevent weeds from growing.

Seasonal applications

designed to manage weeds when treatments are most effective.

Use of pre- and post-emergent products

for weed prevention and removal.

Targeted treatments

to combat hardier varieties such as crabgrass and broadleaf weeds.
Let our team of local lawn care professionals help you reclaim your yard so that you can fully enjoy a healthy, lush, weed-free lawn!
Bed Weed Control in Mobile
Weeds don't only invade your lawn, they also like to appear in your garden beds, where they compete with your showcase plants for resources. You can try to keep up with weed removal by hand, but unless you're constantly pulling them, it can be a losing battle. As an add-on service, our experienced technicians can take over bed weed management and leave your garden beds captivating.
Our bed weed control service includes:
A detailed inventory

of your featured plants.

Application of a tailored blend of post-emergent treatments

to kill existing weeds while leaving your flowers and ornamentals untouched.

Use of a slow-release pre-emergent

for lasting prevention of weeds.

A total of

4-6 visits throughout the season

for consistent bed weed removal.
Aeration and Seeding in Mobile
If your lawn is looking tired, has standing water after rainstorms, or there are brown patches where not even weeds will grow, your soil has become compacted and is in need of core aeration. With 20+ years of local experience, our team of experienced technicians will assess your property and take the necessary steps to revive your turf.
As part of our lawn aeration in Mobile, you can expect:
Use of a specialized machine to

extract small plugs of grass and earth to loosen the soil

.

Redistribution of these cores throughout your lawn

to allow them to melt back into your turf.

Reseeding to assist growth

in any patchy or thinning spots to improve grass density.

An application of

starter fertilizer to provide necessary nutrients

for seed germination and formation of roots.
Depending on the type of grass that is the best fit for your lawn, we will recommend your turf aeration and overseeding treatment be performed either in the spring for Bermuda grass, or in the fall for fescue lawns.
Schedule Your Treatment Today!
Hassle-Free and Convenient Services
We know your time is valuable and to that end, we offer a number of service options to make your life easier. With our 24-hour phone lines, same- and next-day appointments, free inspections, and no contracts needed, you can quickly have your lawn assessed and start treatments without delay. Our experts are always willing to advise you on how to properly care for your lawn and our online payment portal allows you to pay for your services wherever you are.
Mosquito, Flea, and Tick Control in Mobile
Don't let mosquitoes, ticks, and fleas ruin your time outdoors in Mobile, AL. We offer high-quality outdoor pest services that can handle even the largest infestation. 4-Evergreen's local pest control services are here to help.
Here's what we offer:
A free inspection to identify problem areas and create a customized plan for your yard.
Eco-friendly, EPA-approved products that are safe for your family and pets.
Applications that target existing infestations and prevent future breeding.
Target treatments every 4-6 weeks to ensure your lawn stays insect-free.
 Trust 4-Evergreen for safe and effective outdoor pest control services. Contact us today for a free estimate.